What's Wrong With This House?
WHY CAN'T KB HOME FIGURE  OUT WHY THESE HOMES KEEP LEAKING?  
Apparently the failure isn't anything new.  These condos in Tampa were fixed in 2009- but three years later – they had mold and structural  damage again!  See video  below: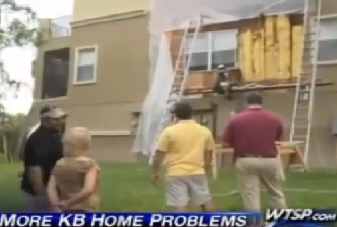 Below, this house in Vero Beach had the same thing happening.  Torn apart in 2011, it leaked again like a sieve in 2012!   Under construction for two years – with a family living inside.   The fix isn't working KB Home!
2011 torn apart                                                             2013 it leaked again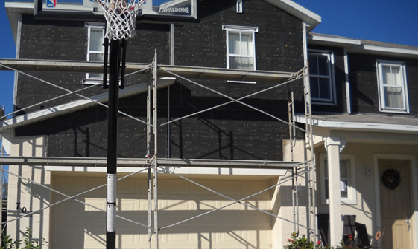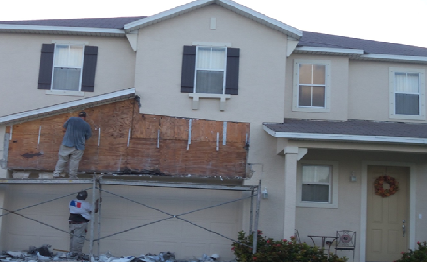 Another House was Gutted for Nine Months – A Year Later – It Had Mold!
.
WATCH them apply your stucco!  3 separate coats!   Not one thick coat in a day!   Be Sure they apply three coats of stucco!   Get a bag of the cement product that they use & keep it. If they finish your stucco in a day, it probably has only one coat & will crack or not be thick enough.
.
Please do not trust your building department.  Follow them!  They have missed structural issues and stucco problems, all over the state!  Be proactive.  They let KB Home build these wrong and repair them wrong!!  Follow them and make sure they are watching out for you and point out specific problems and ask questions.  Do not be shy, they are not  going to pay your mortgage, or fix your house, or care if your kids are sick from mold.  BE AGGRESSIVE!
.
The drainage system was often missing originally missing on many of the frame houses.  They are also fixing them wrong on many houses!  Beware.  Watch your building department too!!!  (There are other issues depending, but this may be a main stucco culprit).  The drainage system which consists  of:
 Expansion joints – These have to be every 100 sq ft or so, so that there can be expansion during temperature changes.  Minimize cracking which allows water to enter the walls.
 Weeps, which are also required in addition to joints.  They allow water that drains between the wall and the stucco to escape from the walls.  They are usually perforated (some are not).  Be sure that your building department knows that they are required IN ADDITION to the joints.  They are usually at the base of the base of wood frame structure.  BE SURE THEY ARE NOT COVERED WITH STUCCO OR PAINT – or they will not drain.  Your building department, or inspector (could be private company hired by KB Home), they can miss it, whether deliberately or by mistake – well – they missed it on all the houses here!
Flashing was originally missing on most windows, and guess what (?)  they are leaving it off when they fix the houses!!!!!!      BE SURE YOUR BUILDING DEPARTMENT  checks for flashing on the roofs, and windows,   any place where two unlike surfaces come together!  These subcontractors are taking shortcuts or they just don't know or care what they are doing and KB Home, 1/2 the time (most of the time?) sends an unlicensed customer service person, to look at your house.  So ask these KB Home people who come out, (subcontractors & KB Home employees), "are you licensed?"  "What authority do you have to make construction decisions if you are not licensed?"
And if they are not licensed and make construction decisions report them, your county building department should have a link.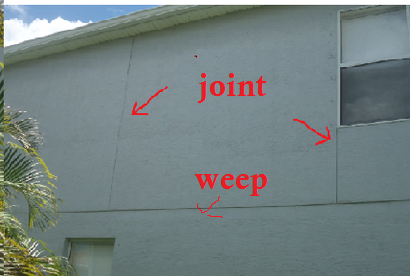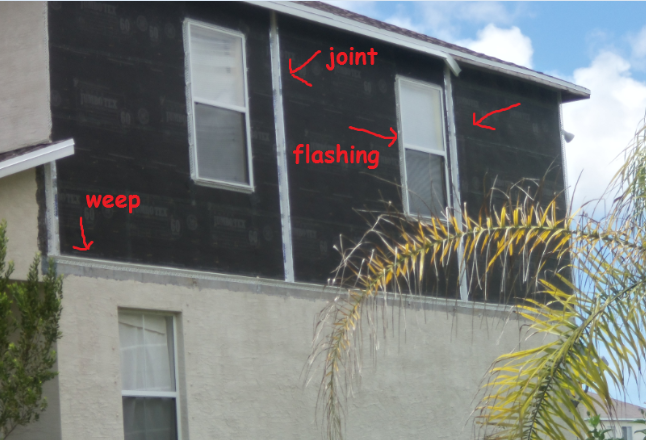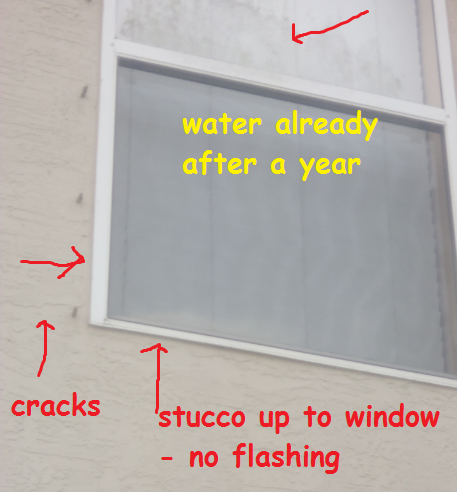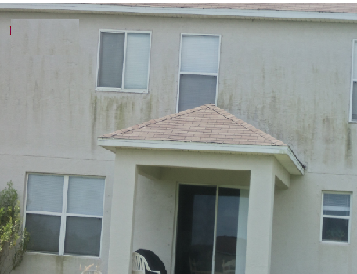 HOUSE WITH NO JOINTS OR WEEPS OR FLASHING ON WINDOWS ABVOVE
 Be sure it is there and not covered with paint and stucco.