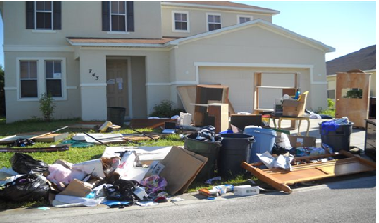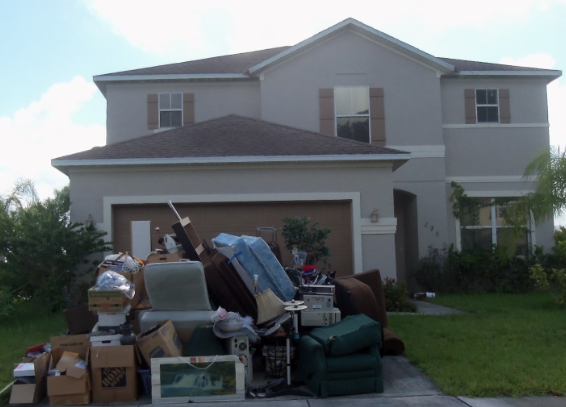 This is my KB HOME neighborhood.   I paid $316,000 for my house.  It was assessed as low as $70,000!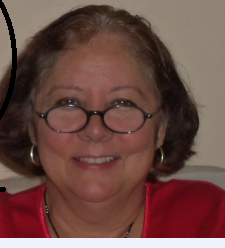 I'm never getting out of this KB Home neighborhood alive! I  live in a KB Home subdivision  in Florida.  Foreclosures are rampant. Most of the houses had leaks. After repairs they re-leaked.
.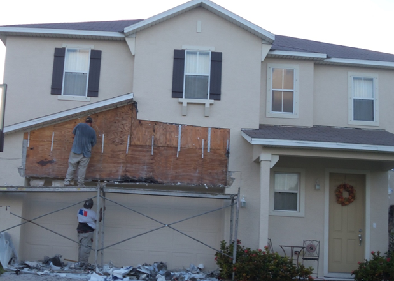 WE BOUGHT A KB HOME to replace a house lost in the hurricanes.  
IT WAS THE BIGGEST MISTAKE OF OUR LIVES!
2004 was the worst hurricane season on record.   Charley, Frances, Ivan, and Jeanne hit Florida. Two of these storms set a  bulls-eye – and slammed directly into Vero Beach –  20 days apart!   That had never happened before in history!
        We had to  bulldoze our old house.
BUT OUR NEW KB HOME WAS A NIGHTMARE!
NOTHING BUT  SPECULATORS AND LEAKS!
 SPECULATORS!
We thought we'd be safe from mold in a new house.   Despite the housing bubble, we were desperate.   We chose a neighborhood we could afford and one where the builder said they didn't sell to speculators.  This was in their sales addendum.

.
NOTHING COULD BE FURTHER FROM THE TRUTH!
Nothing but speculators!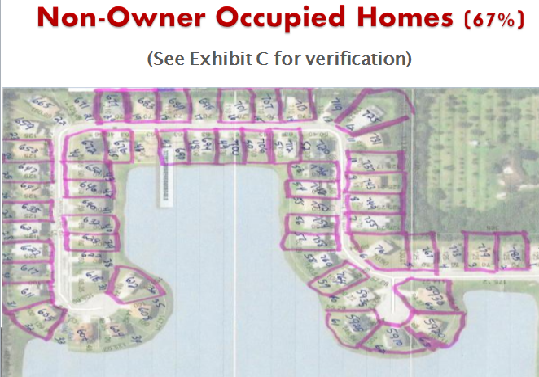 It didn't take long to figure out – there was no getting out.  Values started to drop and listings piled up.  We complained. KB Home wrote back,   we never promised we wouldn't sell to speculators – and I'll be damned –  they didn't use the word promise anywhere.
 KB Home told the WSJ – We're the one who got duped.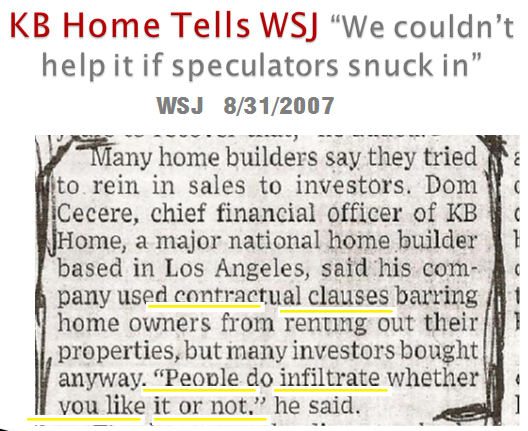 Problem was, they sold nine houses to one owner in  this neighborhood.  A quarter of the owners bought more than one house.  This one infiltrated nine times.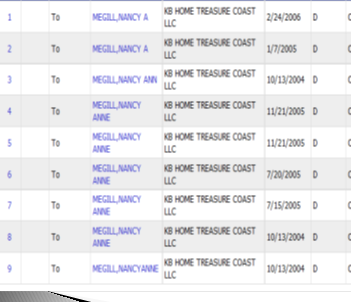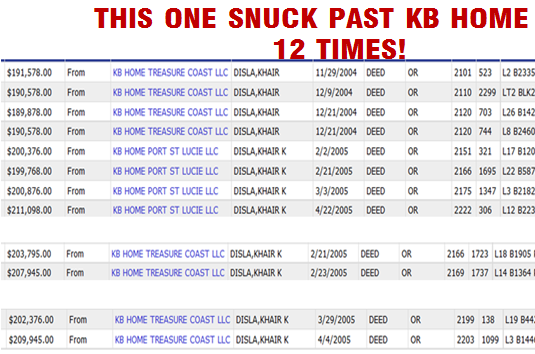 STILL KB HOME STILL DENIED KNOWLEDGE OF SPECULATION!
LANDSCAPING
BUYER BEWARE!  DO NOT BUY SOMETHING YOU CANNOT SEE.
Speculators don't  put  money into houses, and so, the neighborhood never got landscaped, which is odd because the county had a strict landscaping code at the time and KB told us, houses were to be landscaped, or we would have never bought a neighborhood we thought could end up looking like this!
Not a tree in sight!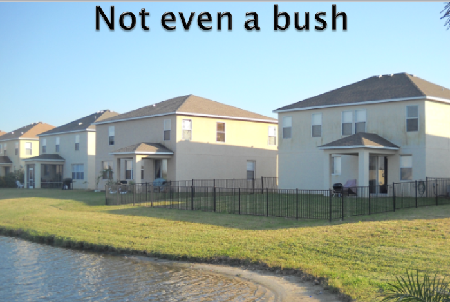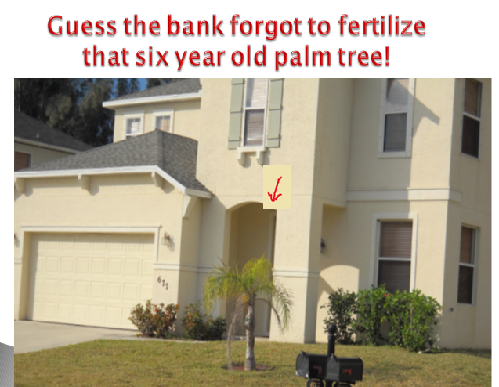 It's a no-brainer – a neighborhood that looks like this isn't ever going to be worth much.

ROAD
KB Home takes no responsibility for this either. BUYER BEWARE!
No other new neighborhood in the county looks like this!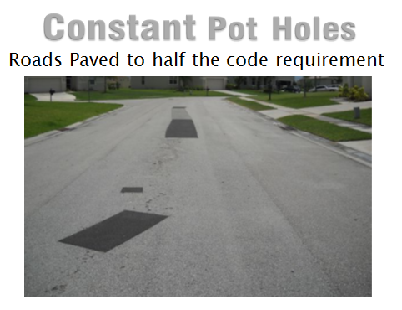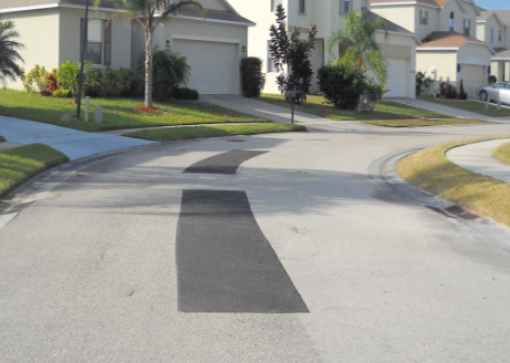 KB Home did not warrant the road.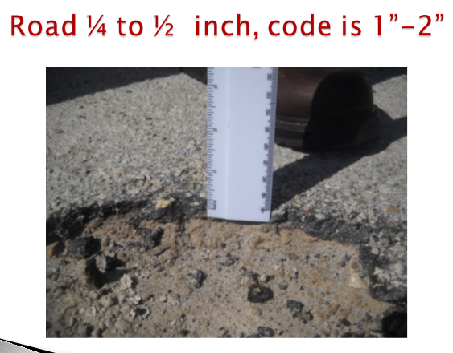 Never disclosed they did not warrant it. It's the largest improvement in the community.
THEN WE LEARNED ABOUT THE LEAKS!
It took a while to understand the extent of it –  because there were so many vacant houses – there was no one to ask.
BOOM! Overnight values dropped!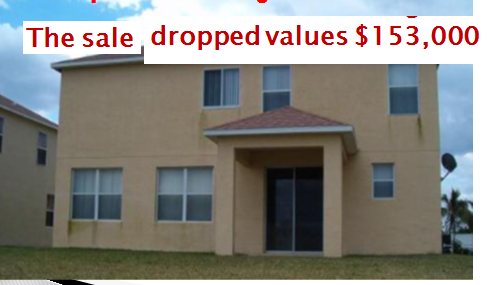 A home inspector said it was full of leaks.  It was a foreclosure. KB Home said the windows had been left open.
You didn't know who to believe.
Soon the neighborhood looked like this!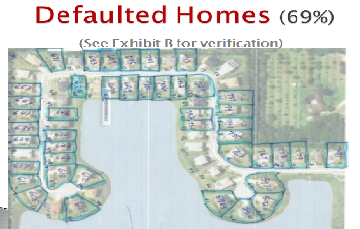 FAST FORWARD 7 YEARS
Owners may want to shout, "I hate KB Home," or "KB Home Sucks" (those web sites are already taken by the way – KB Home owns them!), but that does no good.  We have to find each other on the internet, break the silence and write letters and make calls to state and federal regulators, the Attorney General,  the FTC, your state legislators, county commission, building department, Congressman, and each other.  Tell anyone you can about what has happened.
 I'VE BEEN FIGHTING KB to get houses fixed- BECAUSE THIS ISN'T RIGHT!
KB Home has been "fixing" houses for 2 years and they are already  re-leaking!!  Warranties expire starting next year.  What do you think the end of this story will be?