KB Home – Builders Playing Russian Roulette
PUBLIC ENDANGERMENT.   NO LONGER A GOVERNMENT CONCERN!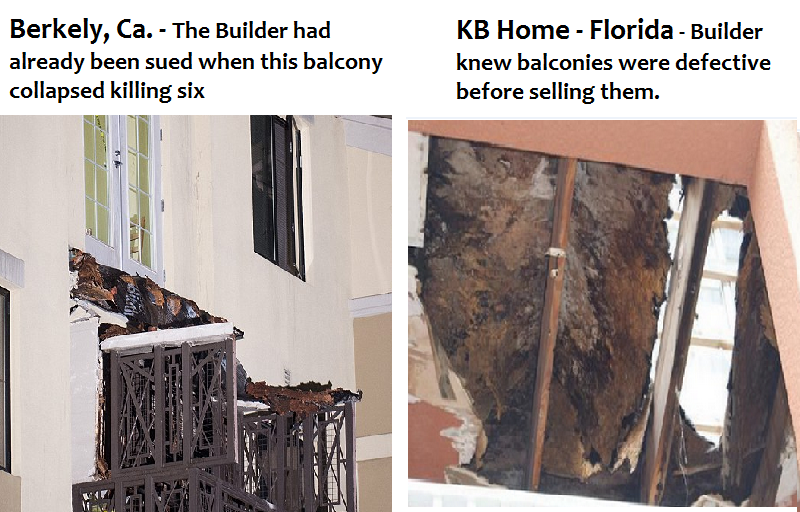 .
WE NO LONGER HAVE ANY REASON TO FEEL SAFE.  The whole world watched as six Irish teenagers were killed and seven were critically injured in Berkeley California when a rotted balcony collapsed, crashing four stories to the concrete below.  The Irish teens were in the United States on temporary visas and  celebrating the 21st birthday of a friend when the balcony, which is reported to have been designed to hold their weight, broke away from the building.  The tragedy should never have happened but it now seems it is far more common than anyone knew.  
 Should Builder Have Known?
According to the Guardian, Segue Construction, had paid $3.5 million to settle litigation with a Homeowner's Association South of San Francisco involving water intrusion and defective balconies and outdoor spaces in another complex.  Often builders use the same crews, materials, and plans in different locations.
KB Home Balconies Collapsing in Florida   
It's unknown if Segue Construction re-purposed building plans, but KB Home did. The identical condo complexes were both plagued with problems.   It appears that the fatal balcony had dry rot that weakened the support. Balconies collapsed in Manatee Florida as well.  Miraculously, no one was killed. In Florida, the three story condos were sold to owners knowing they were defective according to a KB Home whistle blower, Ruben O'Neil.  In his lawsuit, O'Neil called the construction, "Life threateningly dangerous."  He said, "The rear walls could collapse in a storm, causing loss of life and property."  According to O'Neil, KB Home's attorneys and management, in a conference call, decided they would not inform the buyers of the defects, but instead would close on the homes knowing that people could die.  KB Home knew NBC News 8 Tampa.
This was in 2007, and KB Home claims that they informed the owners and made repairs (eventually after the fact), which even appears to be questionable since they continued to build the same condos until 2009, and those condos were also sold without disclosure and the balconies also collapsed.  It wasn't until 2012, when the balconies did collapse and a settlement was reached with the Home Owner's  Association, that the condos got fixed.  And that subdivision (Willowbrook Condo), had a twin complex in Tampa, built from the same plans. And that twin complex, Palm River, also leaked, and also was supposedly repaired.  But three years later, Palm River leaked again – so they were not actually repaired – were they?
BEWARE!  – You Are On Your Own – There is no protection from your government. 
Your first line of defense should be your building department, but in Manatee County, they missed obvious life threatening defects that were easily visible.  Willowbrook not only had collapsing balconies, but was missing straps and bolts that hold the building together in high wind. Even after the buildings were exposed and falling apart, the building department denied any wrong  even though it was their job to inspect every step of the construction.  (And Here).
The same happened in Indian River County where the building department allowed every house to be repaired incorrectly even knowing they'd been built incorrectly and were under state investigation.
It appears to be of epidemic proportions in Florida and may be the same nationwide. But in Florida, even when the most glaring dangers are uncovered or dishonest practices exposed, no government body will act.  The attorney general has had an investigation for two years which languishes.  Meanwhile the governor and attorney general are endorsed for re-election by the builder associations and the attorney general, Pam Bondi,  has exposes written by the New York Times about her connections to lobbyists.
Balconies collapsing nationwide – Are we in a period of Gross Public Corruption or a Dark Age? 
It is estimated that there were 6,500 people injured on balconies since 2003. Something is wrong with the building industry in the United States.