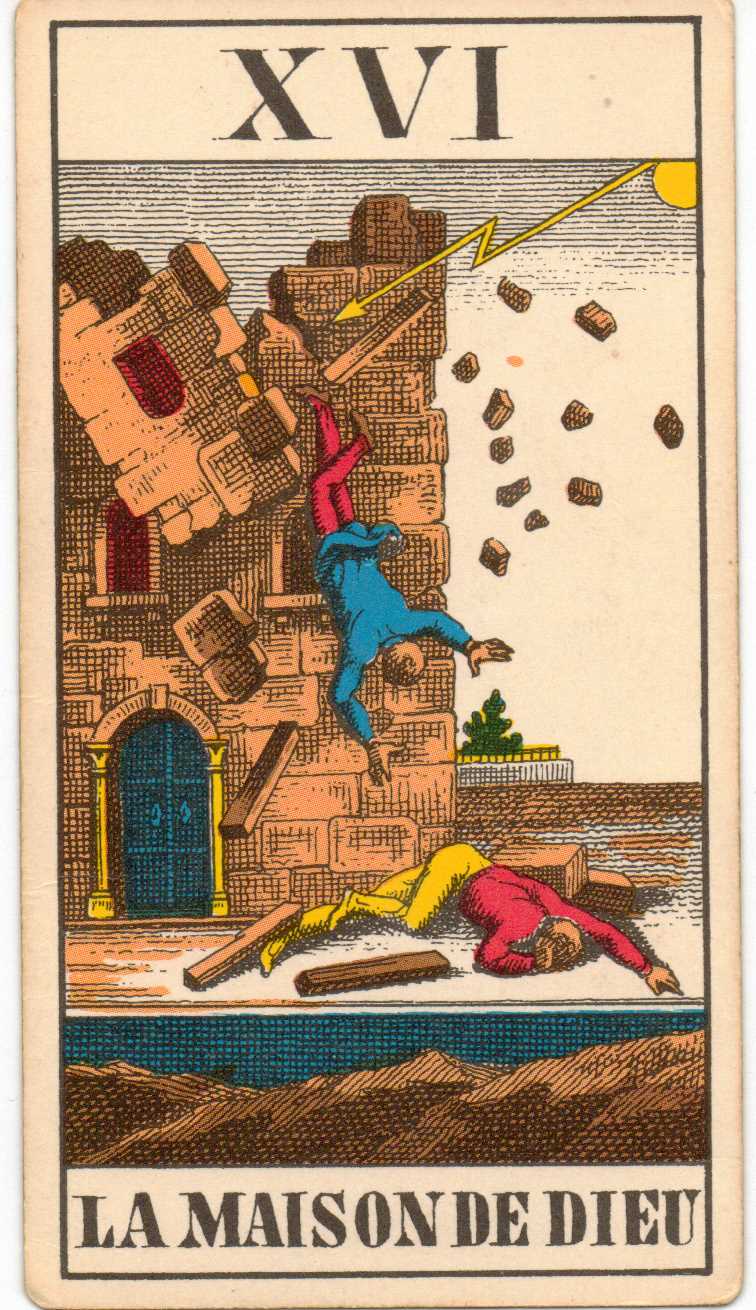 I PAID $316,000 FOR MY HOME.  IT IS ASSESSED FOR $70,000!   
DESTRUCTION, FORECLOSURE, BANKRUPTCY, RUIN!     If the walls leak again for any reason on this KB Home, the owners could be bankrupt!  Their insurance has stated they will not cover any claims for items repaired on their leaking home – which would be quite a lot!  And KB Home sure isn't extending warranties.  
INSURANCE
WFLA News Tampa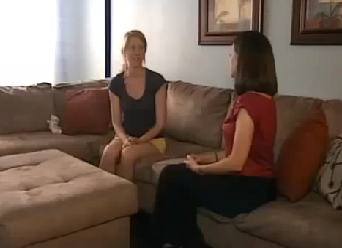 Insurers are refusing to cover prior defects!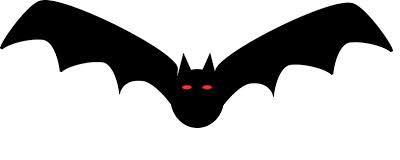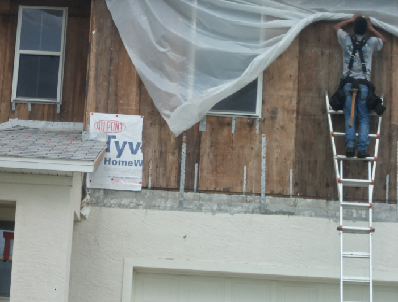 Would Insurance Pay Claims –  if they knew you were living in something that looked like this? Imagine a category five hurricane!   If you made it out alive, what would be your chance of making an insurance claim if the insurer realized that all you had for walls was a piece of wood and a thin sheet of plastic for nine months?   That's how owners have been living all over the state of  Florida since KB Home started deconstructing their leaking homes.
Cancelled Insurance!
Some owners have already had their insurance cancelled  because of the condition of their property.    If completely uninsured as one owner is, a fire could mean financial liability and ruin.  In a condo, you might be responsible for your neighbor's  damage.  The mortgage doesn't stop if your house is destroyed.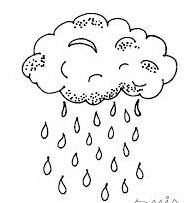 Exposure to Elements !
Some houses were exposed to weather for two years  –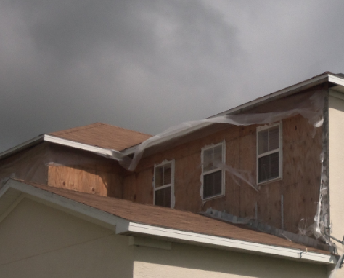 think they could have mold? Problems with the electrical?  Wet insulation?  New construction doesn't have these elements until they are water tight.  How about bees – ants – vermin?
                                 ..
.
DISCLOSURE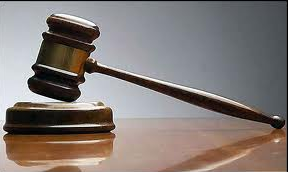 You have to disclose every negative thing you know about your house  – or you could be SUED – for non-disclosure – deception – fraud!   Of course that is "if" you could sell it.  So  your house could curse you the rest of your life!
                          Foreclosure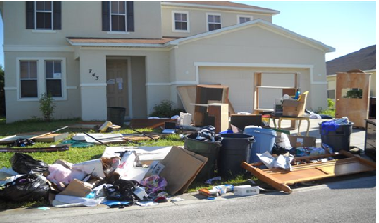 The only way out of this neighborhood is foreclosure.  This is why 69% of the houses defaulted.  Some got short sales, but their credit is ruined.  Even if you foreclose, you still owe the bank the money (deficiency judgment) in most states.   It compounds with interest, and in some instances banks don't even want the house.    You could still owe the  taxes, and have liability for the property you abandoned.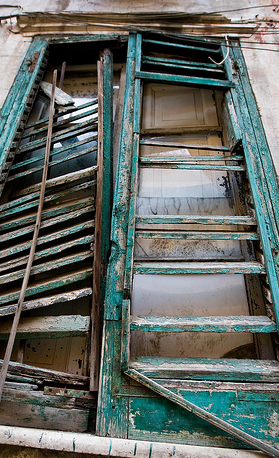 Were Your Hurricane Shutters Fitted on  Your Windows?  
NOT here! In  Carriage Lake – KB Home did not put up the hurricane shutters on the windows to test that they fit after they had  removed and replaced the bolts along with the stucco (required by law).  Some owners caught the mistake and made KB Home come back and fit the shutters.   They did not fit.   Shutters had to be re-drilled.  Would insurance  pay a claim if the houses were not shuttered?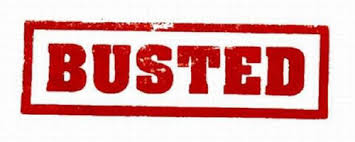 NO PERMITS  PULLED FOR EXTENSIVE WORK!  This could be a financial disaster for the owner.  KB Home  was caught working  without permits.  This puts the owner in a very precarious legal predicament. Owners have to disclose to future buyers.  If an insurance company learns that there were no permits and there is a claim – it would not be paid!  Who knows if the work was done correctly?  The county wanted to demolish this house and foreclose for lack of permits!  Busted…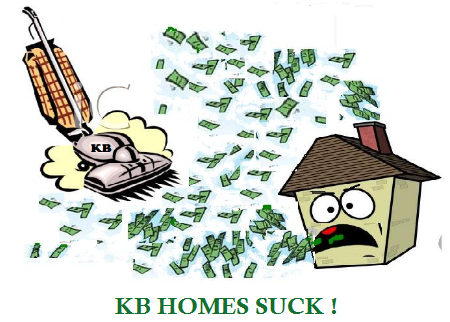 You'll never borrow on this house!
Say your roof leaks – you better have some cash on hand  because  if you are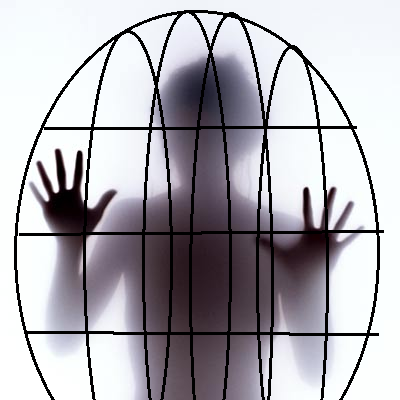 upside down on your mortgage (houses are by as much as  $200,000 in here!) well, you just aren't going to borrow any money!  Probably not ever!
 Trapped!
 Banks don't even want these houses anymore.  There are four foreclosures in  Carriage Lake that the bank refused to take the deeds – even though they foreclosed on the mortgage!  The owner still has all liability for the property!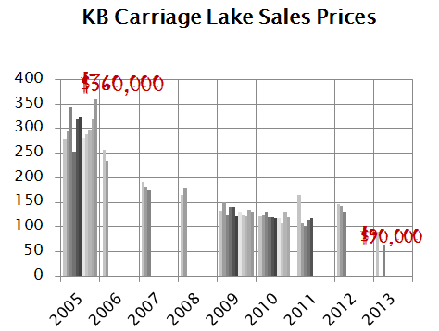 vs Floirda  – Summer 2013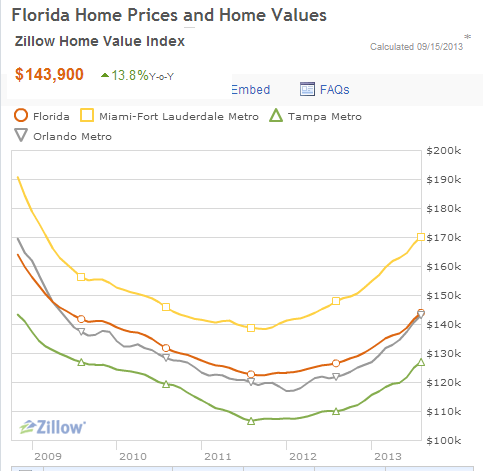 Anatomy of a Failed Neighborhood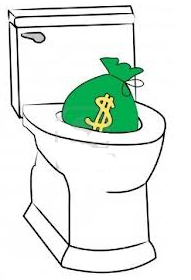 Carriage Lake  
  Buyer – Beware!
First the neighborhood was sold to speculators (despite KB Home stating it was their policy not to sell to speculators).
The neighborhood was flooded overnight with speculator houses for sale.
Homes were never occupied.  Derelict – Unsightly.
Then abandoned.
If they leaked no one knew – if the owners tried to get them fixed no one knew.
Houses leaked.
Repairs were refused or inadequate – even for the people who stayed.
Catch 22!  KB Home won't honor warranty if foreclosed!
Neighborhood is STIGMATIZED beyond recovery.
One of highest default rates in county.
IS IT STILL YOUR DREAM COME TRUE – OR YOUR WORST NIGHTMARE?