KB Home Booms While Owner's Suck on Lemons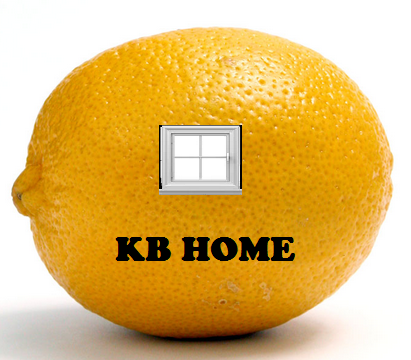 The Cove at Bay Pines in St. Petersberg is the latest addition to KB Home's list of new developments going up in Florida.  There are also +900 lots in NE Florida, and +500 more in Central FL.   From the Orlando Business Journal, "George Glance said, We're not only actively selling in the market, we're bringing new homes to market in an accelerated time frame."  Isn't that what got KB Home in trouble in the first place?  And how come they aren't fixing them at an accelerated pace?  It's taking two years and longer.  KB Home is raking it in hand over fist and the state of Florida could care less about the garbage they left in their wake from the last boom.    Meanwhile, houses continue to leak and re-leak all over the state.  Florida consumers seem to be on their own, holding the bag for defective structures, loss of value, stigma.  It's a nightmare of epic proportions.   Thanks  Florida!
 Ha, ha, ha, ha!  KB Home Sucks?  No! You Suck!  Suck on Some Sour Lemons you idiot for buying this house.   Ha, ha, ha, ha!  Buyer Beware!
(Florida's Bizarre Governor Rick Scott)